.
Baptisms
We welcome into our Parish community
Aoife  Susie Keyes
Shaya Mary Marie  Mc Court
Charlie Andrew Moss
Conlon Tiernan Gerard Quinn
Donnacha Shane Kevin Quinn
who were baptised last weekend.
Mass intentions for this week
Fri 7th August 7.30pm: Fay McCaffrey
Sat 8th Aug 10am: Michael & Bridget Cox & decreased relatives (Lisaneden)
Sat 8th Aug 7pm: Mary Hannigan
Sun 9th Aug 10am: Aidan Mullan
🌟🧹Cleaning of the Chapel🧹🌟
Thank you to all who came along and helped at the chapel cleaning on Thursday night it is greatly appreciated.
Lough Derg
A new pilgrimage on Lough Derg's lakeshore. Walk and Pray in the Lough Derg tradition on 16, 18, 22, 26 & 30 August. At times in the 1600s and 1700s when Station Island was closed by the Penal Laws, pilgrims undertook a form of pilgrimage on the lough shore. Walk in their footsteps. Contact 0 (0353) 71 9861518 or info@loughderg.org for details. Numbers are limited. Advance booking essential.
✨Pilgrimage to Knock✨
Thanksgiving Pilgrimage to Knock Shrine,
04th September 2020. £499.00 per person sharing. Price includes return bus transfer to Knock, 3 nights' in 4 star Park Hotel with Full Board. All entertainment and excursions. Wheelchair accessible rooms. Single supplement £90.00.
Contact Patricia on 01268 762 278 or 07740 175557 or email knockpilgrimages@gmail.com.
Knock is fully protected by ATOL T7613.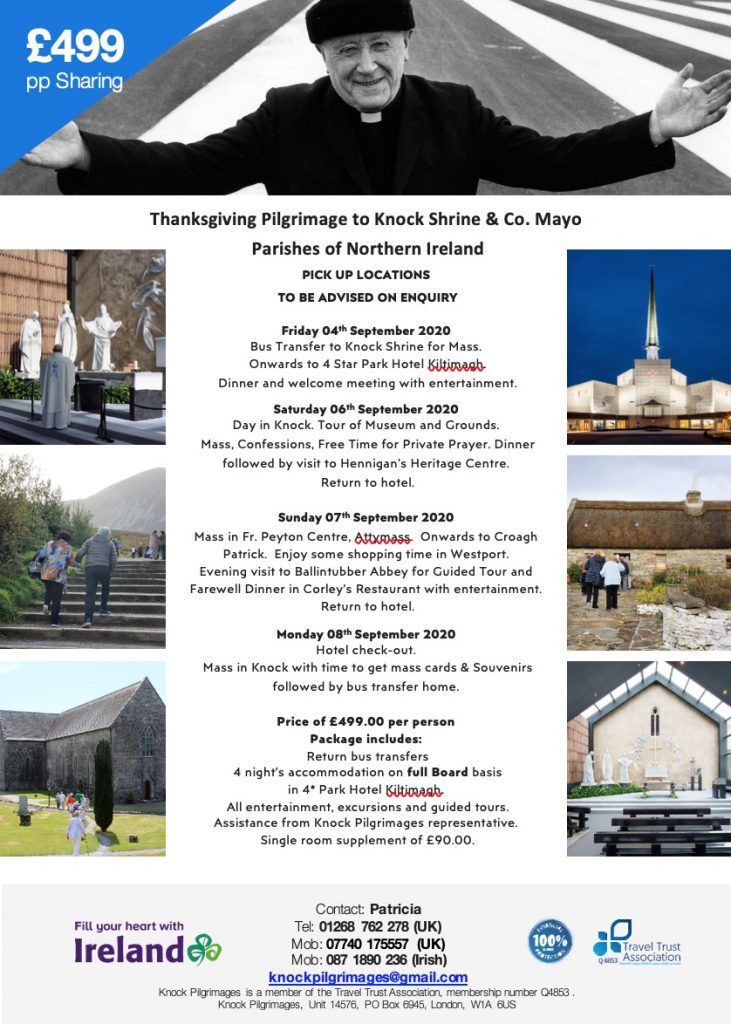 ✨Parish Announcement✨
Please note that dogs must not be let loose in the Church grounds and the fouling on graves is particularly offensive to loved ones.
Love Reaches Everywhere
Mary's Meals has shared a new film, #LoveReachesEverywhere. Watch for free and join Hollywood actor, Gerard Butler, as he meets some of the children and communities you are helping around the world: www.marysmeals.ie or on Facebook Mary's Meals Ireland
Dromore 2000 – Community Announcement
Dromore 2000 are looking for your feedback on some suggestions which they have received and to get your ideas for planning ahead.
Everyone that completes a survey will be entered into a draw for a £50 Voucher for Molloy Butchers.
Feel free to complete this questionnaire on behalf for family members as we know it's hard at this time.
Survey link below⬇️
https://forms.office.com/Pages/ResponsePage.aspx…
Spiritual Communion
We are all reminded of the Catholic tradition of a spiritual communion. When we cannot attend Mass, we can still make an Act of Spiritual Communion, expressing our faith in Christ and in His Presence in the Eucharist, asking Him to unite Himself to us. The basic element of an Act of Spiritual Communion are an Act of Faith; An Act of Love; a desire to receive Christ; and an invitation to Him to come into your heart. Some of the prayers accompanying an Act of Spiritual Communion include ;
My Jesus, I believe that you are present in the Most Blessed Sacrament.
I love you above all things, and I desire to receive you into my soul.
Since I cannot at this moment receive you sacramentally,
come at least spiritually into my heart.
I embrace you as if you were already there and unite myself wholly to you. Never permit me to be separated from you.
Amen.
Notice
We have basic food parcels available for those who may need them at this testing time. If interested please contact 07979 535424 or Fr. Mac Entee on 02882 898641