Mass Intentions for this week

Fri.4th 7.30pm Gene and Margaret McCarron
Sat.5th 10am Ann McGlone Fairview
Sat.5th 7pm M.M. Teresa Kelly
Sun.6th 10am Joseph, Michael and Seamus Donaghey
Please note that as from Monday 19th October only 25 people are allowed to attend a funeral
Readers December
7pm Mark McAloon          10am Patricia Murphy
Eucharistic Ministers December
7pm                                         10am
Thomas McCarron Tiernan McCarron
Ann Hagan Caolan McCarron
Mark McKenna Cormac McQuaid
Liam McLaughlin Cara Sludden
Clare Winters Bernie McCarron
Please see the letter below from Bishop Duffy with regards to Face Coverings in Churches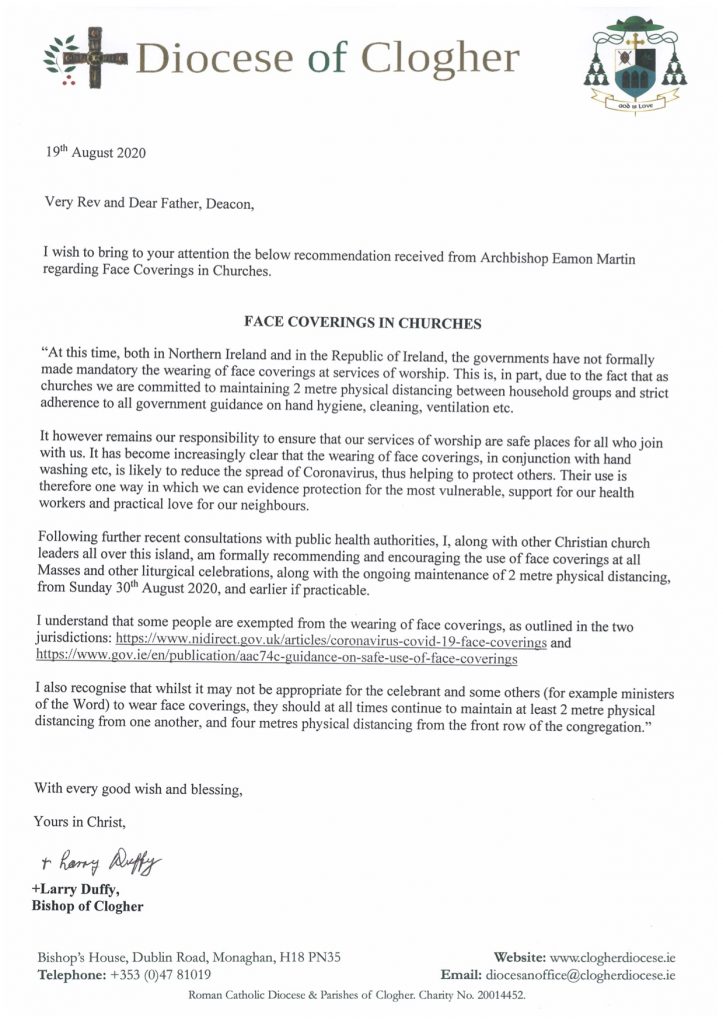 The Annual Graan Draw takes place on 8th December. If you would like to buy a book of tickets please ring the Graan Monastery 028 6632 2272 or write The Graan Monastery 73 Derrygonnelly Rd. Enniskillen Co Fermanagh BT74 5PB or email at thegraan@btconnect.com or visit our website the graan.com. The tickets cost £1/€ or a book of 6 for £5/€5. 1st prize is £5000
Dromore Sports Complex: Fitness Suite now closed for 2 weeks due to the current COVID-19 restrictions, we hope to return open again on Friday 11th December
SUSE+ New courses commence mid-October 2020
Have you recently been made redundant or are you currently unemployed? If so, SUSE+ can help you, we are currently offering help and support with Job Searches, CV Building, Interview Preparation. Mentors work 1:1 with participants to help secure a job in the local area. New courses include : Foundation Skills in Working with Children, Personal Success & Wellbeing, Progression to Employment, Customer Service, Money Management, Retail, Business Admin and Essential Skills in Numeracy and Literacy.
For more information contact : Tracy – tracy.sharkey@swc.ac.uk – 074 3653 3475
✨Parish Announcement✨
Please note that dogs must not be let loose in the Church grounds and the fouling on graves is particularly offensive to loved ones.
Love Reaches Everywhere
Mary's Meals has shared a new film, #LoveReachesEverywhere. Watch for free and join Hollywood actor, Gerard Butler, as he meets some of the children and communities you are helping around the world: www.marysmeals.ie or on Facebook Mary's Meals Ireland
Spiritual Communion
We are all reminded of the Catholic tradition of a spiritual communion. When we cannot attend Mass, we can still make an Act of Spiritual Communion, expressing our faith in Christ and in His Presence in the Eucharist, asking Him to unite Himself to us. The basic element of an Act of Spiritual Communion are an Act of Faith; An Act of Love; a desire to receive Christ; and an invitation to Him to come into your heart. Some of the prayers accompanying an Act of Spiritual Communion include ;
My Jesus, I believe that you are present in the Most Blessed Sacrament.
I love you above all things, and I desire to receive you into my soul.
Since I cannot at this moment receive you sacramentally,
come at least spiritually into my heart.
I embrace you as if you were already there and unite myself wholly to you. Never permit me to be separated from you.
Amen.
Notice
We have basic food parcels available for those who may need them at this testing time. If interested please contact 07979 535424 or Fr. Mac Entee on 02882 898641