Mass Intentions for this week
Fri 2nd October 7.30pm: Laird Family
Sat 3rd October 10am:    1st Anniv.  Eamon Garrity
Sat 3rd October 7pm:      Brendan McCanny Dullaghan
Sun 4th October 10am:  Eugene McCann Montague Villas
Readers October
7pm Martin Curran           10am Niamh McCarron
Eucharistic Ministers October
7pm                                         10am
Patrick Kelly                          Caolan McCarron
Mark McKenna                     Tiernan McCarron
Chris McGrath                       Phelim McCarron
Roisin Mullarkey                 Michelle Hunter
Fiona Dillon                          Aine Donnelly
Sunday 27th September – the 106th World Day of Migrants and Refugees
The theme chosen by the Holy Father for 2020 is "Forced like Jesus Christ to flee". In his message the Holy Father says:
'Displaced people offer us this opportunity to meet the Lord, "even though our eyes find it hard to recognize him: his clothing in tatters, his feet dirty, his face disfigured, his body wounded, his tongue unable to speak our language".
We are called to respond to this pastoral challenge with … four verbs: welcome, protect, promote and integrate.
To these words, I would now like to add another six pairs of verbs that deal with very practical actions and are linked together in a relationship of cause and effect:
You have to know in order to understand.     It is necessary to be close in order to serve.
In order to be reconciled, we need to listen.   In order to grow, it is necessary to share.We need to be involved in order to promote   It is necessary to cooperate in order to build.'
Next Sunday 4th October – Day for Life: The theme for this year's Day for Life here in Ireland is "Choose Life". We as Catholics have a message of hope and a story of love; together we can promote a culture of life. Next Sunday will be a day dedicated to raising awareness about the meaning and value of human life at every stage and in every condition. For more information visit www.councilforlife.ie
LOURDES2CLOGHER ROSARY DURING MONTH OF OCTOBER:
At 8pm on every Friday in October, the Month of the Rosary, (beginning next Friday) there will be a short video reflection on and the recitation of the Sorrowful Mysteries of the Rosary from a church in the diocese. This can be accessed via the Diocese of Clogher Facebook Page and on www.lourdes2clogher.com. Following the success of the #Lourdes2Clogher virtual pilgrimage earlier this year this is an opportunity to continue our prayer and devotion to Our Lady and keep the Lourdes story in our minds.
Dromore Sports Complex:
Staying Active Club:- Returns Monday 5th October- 10.30am-11.30am  
CORE Kids– Fun games and Physical activities for Children from P1- P7
Mondays 3.30pm- 4.30pm 5 week Course £20 (Starts 28th September)
Book Online @ www.bookwhen.com/corekids
Flu Season Fintona Medical Centre – Due to Covid-19 we will be running fixed vaccination clinics which will be slower due to the virus, social distancing and cleaning.  The first stock delivery will be for those aged 65 and over and those aged 9-64 years old in a confirmed at risk category for long term chronic health issues
If you are within the above cohort of patients ONLY you can attend without an appointment on the following week
Monday 28th September – Friday 2nd October   9am – 1.30pm    and 2pm – 5pm
Age 50-64 none at risk will be offered a flu vaccination in November
Job Opportunity: The Diocese of Clogher is seeking to appoint a Diocesan Support Worker. (20 hours per week) initially for 1 year, subject to renewal. Essential criteria include a minimum of 5 years experience as a public health nurse, carer or social worker as well as competency and capability of undertaking the duties of support worker with clergy within the Diocese of Clogher, reporting to the bishop. The post is advertised in local newspapers this week and on www.clogherdiocese.ie where a job specification can also be found. Closing date for applications is Friday 9 October at 12 Noon.
Please see the letter below from Bishop Duffy with regards to Face Coverings in Churches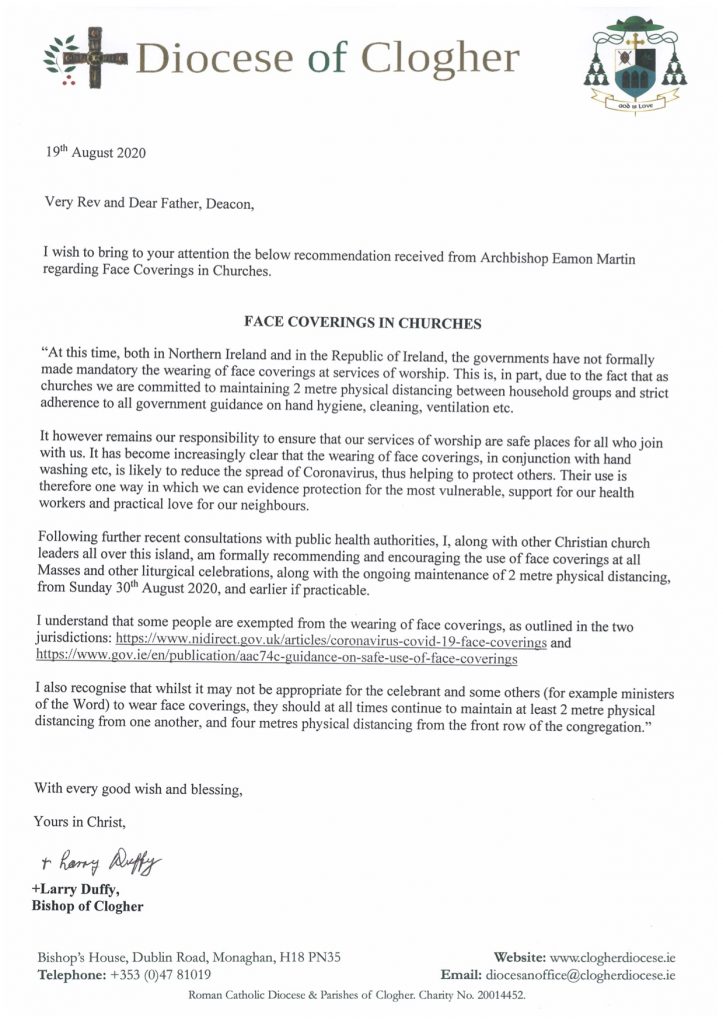 SUSE  Help is available for the unemployed. Have you recently been made redundant or are unemployed? If so, SUSE+ can help you, we are currently offering help and support with Job Searches, CV Building, Interview Preparation. Mentors work 1:1 with participants to help secure a job in the local area. We are offering MIG Welding in October 2020, if you are seeking work in welding please get in contact today as places are limited. An online course provision is also available which includes mindfulness and meditation, money management, holistic therapies, self-care, employability, job clubs and much more.*Eligibility criteria applies. For more information contact   Tracy – tracy.sharkey@swc.ac.uk  – 074 3653 3475
✨Parish Announcement✨
Please note that dogs must not be let loose in the Church grounds and the fouling on graves is particularly offensive to loved ones.
Love Reaches Everywhere
Mary's Meals has shared a new film, #LoveReachesEverywhere. Watch for free and join Hollywood actor, Gerard Butler, as he meets some of the children and communities you are helping around the world: www.marysmeals.ie or on Facebook Mary's Meals Ireland
Spiritual Communion
We are all reminded of the Catholic tradition of a spiritual communion. When we cannot attend Mass, we can still make an Act of Spiritual Communion, expressing our faith in Christ and in His Presence in the Eucharist, asking Him to unite Himself to us. The basic element of an Act of Spiritual Communion are an Act of Faith; An Act of Love; a desire to receive Christ; and an invitation to Him to come into your heart. Some of the prayers accompanying an Act of Spiritual Communion include ;
My Jesus, I believe that you are present in the Most Blessed Sacrament.
I love you above all things, and I desire to receive you into my soul.
Since I cannot at this moment receive you sacramentally,
come at least spiritually into my heart.
I embrace you as if you were already there and unite myself wholly to you. Never permit me to be separated from you.
Amen.
Notice
We have basic food parcels available for those who may need them at this testing time. If interested please contact 07979 535424 or Fr. Mac Entee on 02882 898641