Mass Intentions
Fri. 27th 7.30pm Deceased of McGrath family Cornamuck
Sat. 28th 10am Josie and Francis McKenna
Sat. 28th 7pm 1st Anniv. Fergus Hughes
Sun. 29th 10am Josephine and Francis McCann
Fri. 3rd 7.30pm Tom Goodwin
Sat. 4th 10am Liam McDermott & dec. of McDermott family
Sat. 4th 7pm 1st Anniv. Mary & Michael Goodwin
Sun. 5th 10am Eugene Teague Drumskinney
Eucharistic Ministers January:
7pm

Patrick Kelly

Roisin Melarkey

Fiona Dillon

Bernie Irvine

Thomas McCarron

10am

Ruairi Teague

Oran Sludden

Mark McKenna

Damian McAleer

Phelim McCarron
Readers January:
7pm

Martin Curran

10am

Gerry McDermott
Feasts during early February: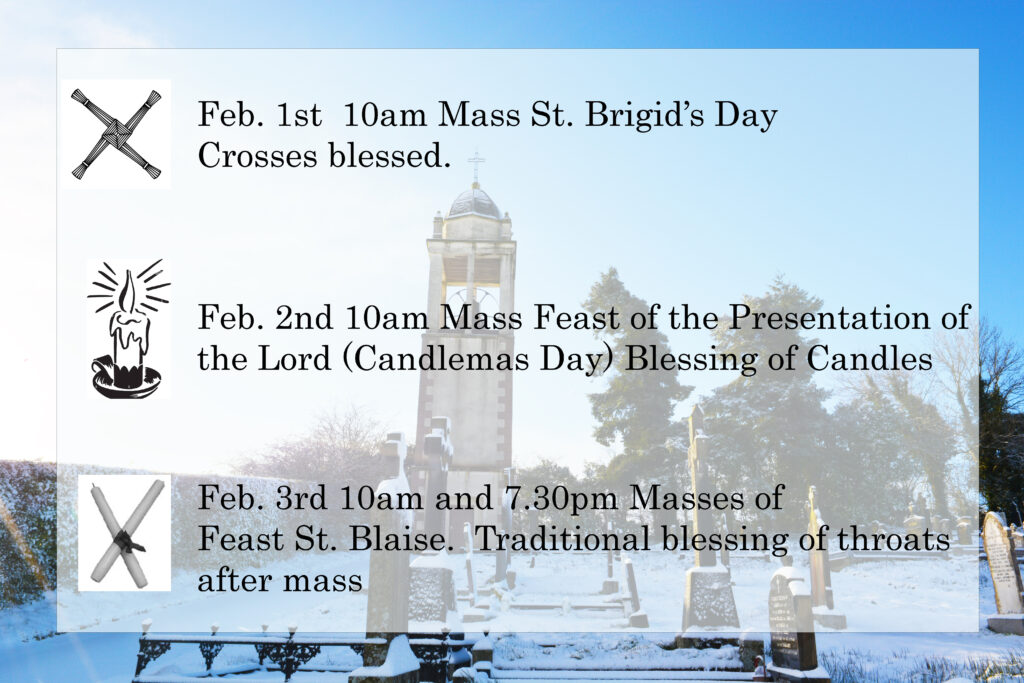 Saint Vincent de Paul society –
the local group of SVP would like to express their gratitude to all those who raised funds and made personal donations to this worthy cause.
St. Brigid Crosses:
Come along to St. John's school this Monday 30th January from 8pm – 9pm to make St. Brigid Crosses for St. Brigid's Day. Rushes available, but bring your own if you can.
Totus Tuus Eucharistic Conference 2023
is live on radio Maria Ireland from 2pm on Saturday 4th February. speakers include Fr. Columba Mary Toman OP, Fr. Patrick Cahill O.J.S.S., Fr. Patrick Lagan (Derry Diocese), Maura Murphy (holy family mission).  Radio Maria Ireland can be listened to by downloading the radio Maria Ireland app, saorview channel 210 or listen live at (01)4373277
Pilgrimages to Medjugorje
2023  Bookings are now being taken for two Pilgrimages to Medjugorje. The first one will depart from Dublin Airport on Wednesday 17th May returning a week later and the second will leave from Dublin Airport on Wednesday 20th September, again returning a week later. Cost is £655 per person sharing which covers return flights, accommodation and meals. There is an additional charge for single room occupancy. The Pilgrimage is organised through Marian Pilgrimages in Dublin. As places usually fill up quickly, early booking is strongly recommended. For more details please contact
John Murray on 0780 1105575.
Omagh CBS 10k/5k Run/Walk
with be held on Saturday 4th February at 11am. All proceeds will be donated to The Enda Dolan Foundation and Ukrainian Refuges in the Emmaus Centre, Dublin. Register online
https://endurancecui.active.com/event-reg/select-race?e=84174234
The Parish has the new Missals for 2023 used by Sunday Readers.
Please collect from the Sacristy anytime. Thank you too for helping in this important ministry
Medjugorje:
16th-23rd August 2023 from Belfast to Mostar. £665. Early booking discount of £40 if a £100 deposit is paid before 31st January '23, giving a reduced fare of £625. Contact John Calgie 02868631177 / 07736336262.
CLG An Droim Mór
are running a one-day Irish course for all abilities on Saturday 28th January in St. John's school from 10am – 2pm. Also, an Irish language fun day for children on the same day. For more information contact Cónall – 07815784962 or check out the club's social media etc.
Holy Trinity Church Hall Dromore "The Ark"
baby and toddlers group is held every Tuesday morning from 10am to 12pm.
All babies and toddlers with their carers' welcome.
Dromore Sports Complex:-
January Adult Classes
Monday Evening Beginners Yoga- at 7pm- 8.30pm- £35 for 5 Weeks or £8 per session
January Children's Classes
Fundamentals- Wednesday evenings – 5.15-6pm (4-6yrs) £3.50 per session
Mini Soccer– Thursday evenings – 5pm-6pm (6-8yrs) £3.50 per session
Tai Jitsu– continues Thursday evenings 7pm-8pm (6-12yrs)- £3.50 per session
Dromore CCE *
continue on
Monday nights in St John's College Dromore
Traditional Singing; Tin Whistle/Flute; Banjo; Fiddle
Anyone wishing to register for the classes please contact the numbers provided
Monica: 07514100058 Hugh: 07704777043 Everyone welcome!
Clogher don Oige
are bringing a group of young adults (18+) on pilgrimage to World Youth Day in Portugal next summer. Details are being finalized, dates of travel approx.
July 25th – August 7th, with time spent in Porto, Lisbon and a trip to Fatima.
See www.clogherdonoige.org/wyd for more information and submit an expression of interest.
Be Alert
There continues to be fraudulent scams and alerts via telephone calls, emails, etc. Please continue to be aware and cautious of any unexpected activity or communication to you and to your vulnerable family members.
PYX
Please return Pyx for Holy Communion if not in use as we have none now left to give to people.